Parent Teacher Organization
The PTO works to fulfill their goals through family supported activities and fundraisers.The funds raised support the AR program, educational assemblies, technology, media center materials, field trips and many other programs.
Please check out Facebook page for more information about activities and ways for you to get involved with your child's school!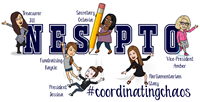 PTO Cabinet

President
Jessica Ross

Vice-President
Amber Clements

Secretary
Octavia

Fundraising
Kaycie Cruz

Parliamentarian
Stacy Brown

Treasurer
Jill Nelms
PTO Contact Information
There are several ways to reach NES PTO and get the latest information on events and activities. Feel free to contact us if you would like to volunteer or have any questions/concerns.

Facebook: www.facebook.com/northsidefalconspto/

Email: northsidefalcons_pto@yahoo.com

Konstella: This will be our main source of communication! Events, announcements, volunteer opportunities, & more will all be sent the Konstella app. Register at https://www.konstella.com/cd/urL5cn

Parent Binder: We will have a PTO Parent Binder in the office that will contain all PTO forms, flyers, newsletters, and meeting information

Calling All Volunteers!
We love and appreciate all of our parent volunteers! Please consider volunteering at the school or with PTO sponsored events. We have several opportunities throughout the year for you to help with. Whether it's becoming a PTO board member, helping in the classroom or library, working Blitzen's Boutique, or assisting with fundraisers ~ we ALWAYS need volunteers! Just indicate which activities you would like to volunteer for on the Membership Form!
*To volunteer you must have an approved background check! Please stop by the NES office to complete the appropriate form.
Stress Free Donations
Make a donation and PTO will give you FREE snow cones!
We know your time is valuable and life gets busy! Maybe fundraising just isn't your thing.... but keep in mind, the money we raise helps provide fun events and prizes for the students, playground equipment, and other needs that arise throughout the school year. Without it, school would be a lot less cool! If you would rather make a one time donation, that's okay too! Contact NES PTO for more details!
Trash for Cash
Our goal is to earn $4000.00 from our Trash to Cash Program! This includes collecting Box Tops for Education, Tyson Project A+ Labels, and Coke Give (Coke codes)
S.O.S. game (Save Over Summer)
Turn in all the Box Tops & Tyson Labels that you've collected all Summer. The Upper & Lower grade classes with the most wins a class prize!
Be sure to include your child's name & teacher's name
Check Box Tops for the expiration date
Expired Box Tops will be discarded and do not count toward your child's total
Trash for Cash Challenge
Participate in the Trash for Cash Program and earn entries for our end of the year drawing for one of five $25.00 gift cards! 10 Box Tops = 1 entry 5 Tyson Labels = 1 entry
Coke Give Codes
Enter Coke Codes from Coca-Cola products and Coke will donate money to the Northside Elementary! All funds from Coke Give Codes go directly to the school to help purchase playground equipment! To enter codes, go to https://us.coca-cola.com/give/schools/